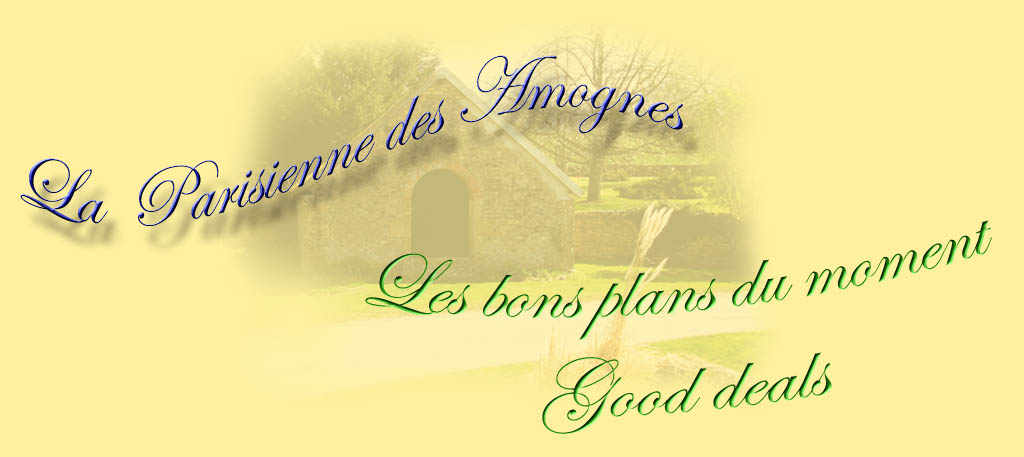 Bientôt l'hiver... Mais l'arrière saison reste belle.
La "Parisienne des Amognes" souhaite vous recevoir, toujours plus nombreux, avec le plus grand plaisir pour vous accueillir et vous faire découvrir la Nièvre: le "Vert Pays des Eaux Vives".
Vous pouvez toujours profiter des plats locaux proposés à la table de "La Parisienne". Comme à l'accoutumée, un verre de bienvenue vous sera offert.
NOUVEAUTÉS 2018 :
- Une taxe de séjour d'un montant de 0,30 € par nuit et par personne est prélevée au profit de la Communauté de Communes des Amognes. Cette taxe s'ajoute au prix de la prestation. Elle est intégralement reversée à l'organisme d'État.
- Une prise électrique extérieure dédiée est mise gratuitement à la disposition des possesseurs de véhicule électrique pour la recharge de leur bolide!...
Et toujours...
La soirée étape VRP du lundi au jeudi... Une nuit pour une personne, repas du soir et petit déjeuner inclus pour seulement 73,00 €. Pour bénéficier de cette prestation, contacter directement "La Parisienne" par téléphone au 06 88 47 53 08.
Contactez "La Parisienne" pour de plus amples informations ou réservez dès maintenant sur la page "Contact" de ce site.
Soon will be wintertime... But the back season remains beautiful.
"La Parisienne des Amognes" wishes to receive you, still more numerous, with the most big pleasure for welcoming you and permitting yourself to discover the department of "Nièvre": the "Green Country of Running Waters".
You are still able to benefit the local dishes proposed within the guest table of "La Parisienne". As usual, you will be welcomed, around a welcome drink.
NEW THINGS IN 2018 :
- A 0,30 € per night and per person, tourist tax is taken in favor of the "Community of Communes des Amognes". This tax is added to the bill you have to pay. Its amount is entirely donated to the State Agency.
- A dedicated outdoor electrical outlet is avaliable, free of charge, to electric vehicle owners for recharging their cars.
And still relevant today...
The VRP evening stage from monday to thursday... One night for one person, including diner and breakfast only for 73,00 €. To benefit from this service, contact directly "La Parisienne" by phone at: +33 6 88 47 53 08.
Contact "La Parisienne" for more informations or reserve on this website on the sheet "Contact".